Swimming Pool Renovation Services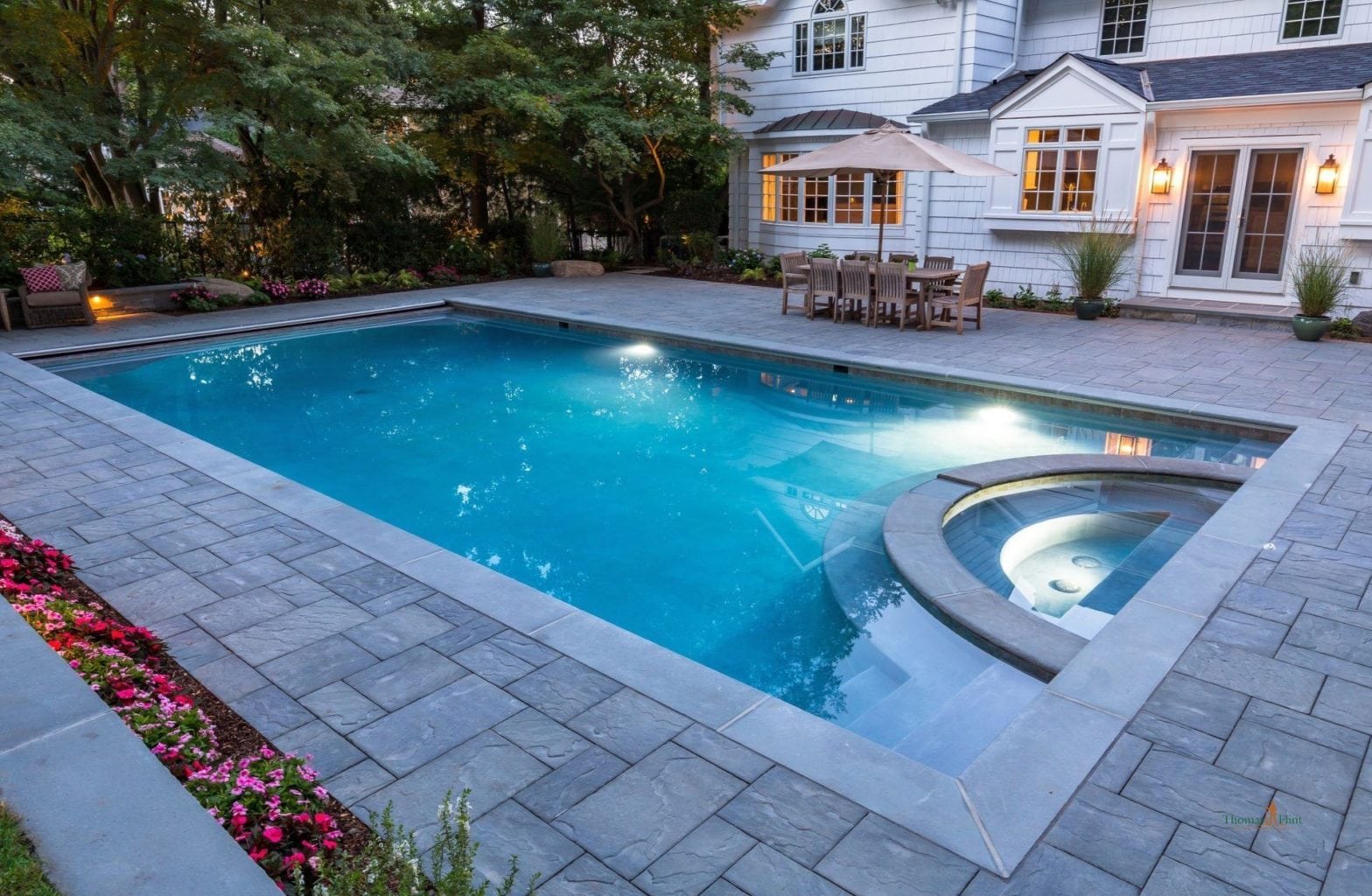 As pool renovation specialists, we can transform your tired, outdated swimming pool into a breathtaking oasis for fun and relaxation.
We handle every aspect of pool construction and renovations in-house with our well trained pool technicians and masons.
Some of our pool renovations include:
New Plaster
Updating the surface of your concrete swimming pool can dramatically impact your pool area and reduce the time and cost spent maintaining the pool. Some of the plaster types we use for durability and aesthetic are:
Diamond Brite
Exposed Diamond Brite
Pebble Tec
Glass Bead
Contact us for a free brochure and an in home consultation.
New Tile
Properly built gunite swimming pools should have a 6" frost proof tile around the perimeter of the pool. This tile is not only there for aesthetic purposes but it protects the plaster from exposure to the air. The pool plaster is intended to be submerged in properly balanced pool water. Prolonged exposure to the air can cause discoloration and cracking. When the waterline rests on the tile it also prevents a water stain from appearing on the plaster. Our in-house experts intricately install glass mosaics and custom tile to your gunite pool or spa. Our vast collection of tile and sources throughout the world will give you endless possibilities when renovating your pool.
Call us today for custom tile samples and a free consultation.
New Plumbing Systems
Many swimming pools built 10+ years ago were plumbed with small diameter flex hose pipes. Most of these systems have a row of returns plumbed in line one after another.
Our balanced loop plumbing systems are plumbed with large 21/2" or 3" suction lines and 2" return lines. We also use scheduled 40 ridged PVC pipe with as few fittings as possible. The ridged pipe unlike the flex hose will last for decades in the ground without pitting or deteriorating and starting to leak below your patio. Our balanced loop plumbing system provides the same amount of pressure at each return which more effectively skims the surface of the pool and more efficiently filters the water.
Relocating or adding skimmers also increases efficiency and results in a cleaner healthier pool.
We use state of the art flush mount returns to blend seamlessly into your plaster to avoid the white standout plastic alternatives
All renovations are done by our sister company, Thomas Flint Landscape Design & Development, an award-winning residential design-build firm serving the New Jersey Tri-State area.
Pool Patio & Coping Renovations
Pool & Landscape Lighting
Let's Get Started Now!
Call (551) 370-7991 to speak with a Clearline Pool Service professional, or fill out the form below for a free estimate.

Keeping Your Pool Picture Perfect!
We keep Bergen County swimming pools ready for your family's adventures!

Our Swimming Pool Services

Dedicated To Bringing You Peace Of Mind
Let us take the guesswork out of balancing your pool's chemicals. You just enjoy your pool!

We set the new standard for pool care!
Clearline always does a great job with the pool! They go the extra mile to ensure it's clean, the skimmer baskets are clear and the chemicals are balanced. It's great to not have to maintain my pool chemicals and know it's safe for my children!
Clearline was referred to me by a close friend. They have been doing pool service at my home since. Excellent experience. They are reliable, honest and do an excellent job. Highly recommend them, and will continue to utilize them.
Request a service from the Clearline Professionals Today!